This week, on Tuesday, we work up to a little more snow on the ground than had been the prediction. I was surprised when I woke up and looked out that it seemed to be a real snowfall. The commute was awful with a number of accidents on the road.
In part, it's the unexpected aspect of these winter events that takes us for a ride as we resist the direction that nature takes us. If we quite simply go with it we find ourselves in a very different kind of situation. As an example, 25 years ago I was visiting a sick friend in Baltimore when it started to snow. I said my good-byes wanting to get home before the weather made it too difficult. But by the time I got to the highway it was already coming down heavily.
I decided to keep going. Luckily there were more experienced drivers on this snow-laden road than myself. People were going 25 miles an hour and driving in a line on this 4-lane highway. One person suddenly decided that it was too slow and speeded up landing herself in the median very quickly.
Having grown up mostly in Florida this was a first time event for me. Maybe I continued because I didn't know any better. But I enjoyed the road. There were some parts of the journey where I was in the only car I could see. I continued at the slow pace and drank in the snowy wonderland all around me. I got into a kind of rhythm. I was one with snow that continued to fall heavily and the deep snow on the road. Surprisingly, I felt a kind of pure joy experiencing the wonder of all that is winter. When people ask me what is a peak experience in your life, this is one of the experiences on my short list.
Nowadays the weather report tends to be exactly right the majority of the time. But the lessons about moving in concert with nature are always there. Let's watch the wildlife and take note. And let's take the opportunity to move slowly and feast on the beauty of these snowy winter days.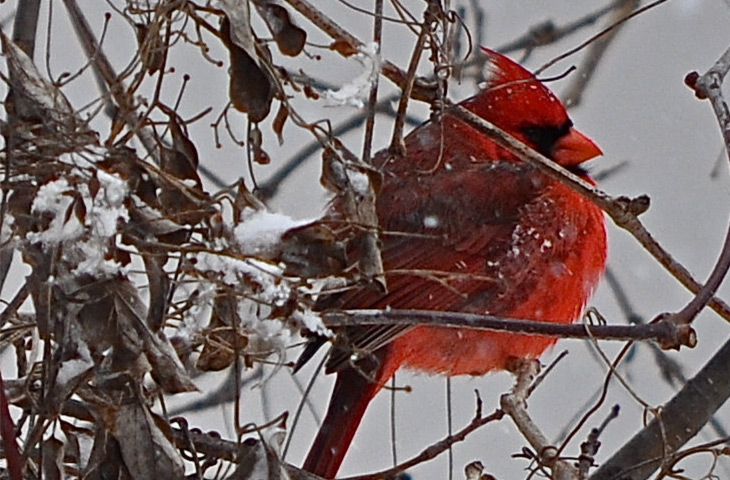 Photo by Julia Lightfoot