It's important when you are a person who shares information and commits to improving others lives that you are able to pay attention to how you live your life. I am now on my way back home from my first real vacation in years where I haven't gone to a location to teach or to attend a class. And I spent time in Paris, Madrid, and Chinchon, Spain.
On my third day in Spain, in Chinchon, a lovely small town I realized my throat was a little sore and I started to sneeze. Besides not wanting it to get sicker, I was with 5 other people and I certainly didn't want to share this experience with any of them. I had the usual symptoms staying up much of the night with sneezing and a runny nose where the box of Kleenex was my most intimate companion. I woke up, worn out a little and committed to heading this away and not succumbing to a heavy cold with bronchitis.
I was so hyped for this trip that I didn't imagine anything other than pure delight and adventure. I didn't carry with me the usual remedies of Chinese herbs and vitamin C, nor did I have access to another acupuncturist who would treat me. But there were some tools that I always have with me.
First, I drank pot after pot of tea with honey and lemon.
Second, I meditated. While meditation is a technique which calms the body/mind; it also helps to create a flow where there are blockages. So between sneezing fits I could meditate for 30 minutes to an hour. More than the calming of the mind, focusing on the breath allowed me to keep the lung qi flowing.
And last but certainly not least, I did Qigong twice a day focusing on specific movements that help to clear the lungs. I am grateful beyond what I can express for the power of qigong to support the natural capacity of the body for healing.
After 2 days of this regimen, rest, and reading a novel on the patio, I was better. I was able go to the Prada Museum in Madrid, enjoyed a performance on the Major Plaza in Chinchon with Horses and flamingo guitar, and just enjoyed all the little moments in Spain. The hot water, meditation, and qigong had saved the day. And I remain committed as always that we have the tools we need close at hand; it's using them that seems to be the challenge. I am glad that I was able to walk the talk this time. And I hope that everyone else who was able to take a break, if challenged had some of these tools to support them. And I recommend a trip to Spain.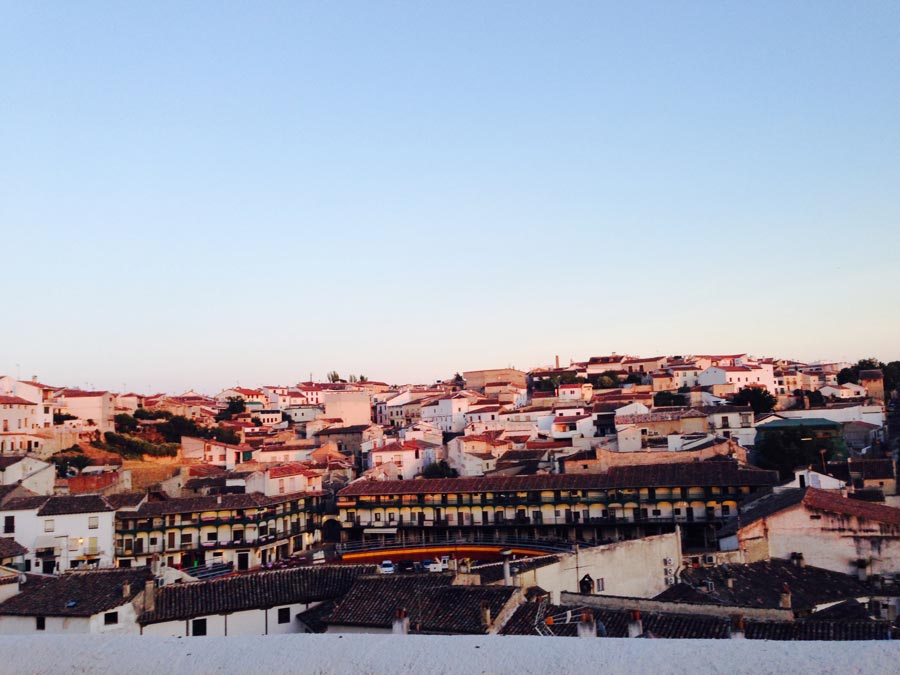 Chinchon August, 2014, View of town landscape in Chinchon, Spain, Photo by Eve Soldinger